26 Feb 2021
Experience Wayanad: 10 Best Wayanad Tourist Places
Wayanad is one of the most beautiful districts in Kerala that delights the heart and mind of all visiting there and leaves a beautiful memory that is to be cherished forever in a lifetime. The entire place is surrounded by dense forest, land on one side and hills on the other. Explore the top Wayanad Tourist Places to visit on your trip to Wayanad.
1. Chembra Peak
Chembra peak is yet another must visit spot for any adventure lover. It is one of the most visited Wayanad Tourist Places. The trek usually takes around 2 hours to climb to one of the highest peaks of the Western Ghats and the view from the peak is indeed spectacular. The most highlighting factor of the trek is the emerald colored lake which is naturally in the shape of a heart.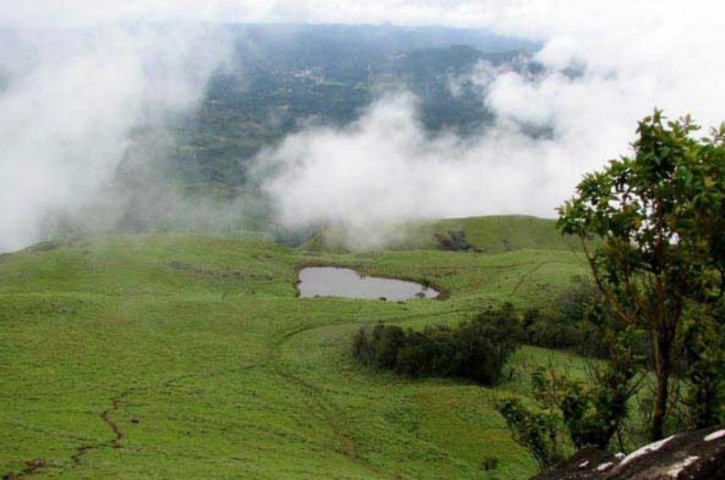 The site is open from 7 am to 2 pm on all days of the week. An entry fee of Rs 20 is charged for Indians and Rs 30 for foreign nationals respectively. Trekking charges for Indians (upto a group of 8 people) is Rs 800 and for foreigners (A group of 5 people) is Rs 1500. Extra fee would be charged for using camera and for parking too. The minimum age required for Chembra Trek is 11 years. Get to know more details at Kerala Tourism website.
Only 200 people are allowed to join the Chembra Trek each day, so make sure to get your ticket book before travel. Don't miss out this spectacular and adventurous spot from your list of Wayanad Tourist Places to visit.
2. Edakkal Caves
Edakkal caves is always a spot that tops the list of top places to visit in Wayanad. These caves hold exciting stories and myths which definitely makes the trek more thrilling. This area is tremendously known for its large amount of camping spots and trekking trails, beautiful waterfalls, caves, bird watching sites, flora and fauna adds beauty which invites tourist over the years. These caves are naturally formed rock shelters that is at a height of 1200 m upon the Ambukuthi Hills of Wayanad . The historic importance and trekking makes it a favourite of travellers amongst the Wayanad Tourist Places.
It usually takes a mini trek with steep roads, rocky path and steep stairs. To reach the rock shelters and at the inner side, signs of Man from a prehistoric settlement dating to the Neolithic period around 6000 BCE can be seen. The place opens at 9 am in the morning and closes by 4 pm. It's closed on Mondays too. Near Edakkal Caves, tourists can also experience Tyndis Village Tour. Don't forget to add this experience among other Wayanad Tourist Places in your list for Wayanad!
3. Kuruva Islands
Kuruva Islands or the Kuruvadweep is an eye-melting scenery situated 17 km east of Mananthavadi on the river Kabani, these islands have rich herbs, orchids and various species of flowers, animals and birds. Swimming is one of the best activity to be carried out here. It is one of the most serene spots among the list of Wayanad Tourist Places.

4. Pookode Lake
Pookode lake is a natural freshwater lake surrounded by a jungle. You can walk through jungles and enjoy the scenic beauty. Boating facilities are also available. Child-friendly parks will relish the kids. Moreover, locals exhibit spices and handicraft items for sale. One of the best place to visit in the Wayanad with family.
This site opens at 9 am and closes by 5 pm. Currently children below 10 and adults above 60 are not entertained to visit the place. An amount of Rs 10 is charged for adults, Rs 5 for children and an extra amount would be charged for using camera. If you are looking for some serene location and family leisure, Pookode is your choice from the list of Wayanad Tourist Places.
5. Banasura Sagar Dam
Located 21 km from Kalpetta at the foot of Banasura Hills. It's the largest earth dam in India. The location and the large reservoirs with trees parched in makes it an attractive tourist place in Wayanad. Visitors can observe floating solar panels which were recently set up in the Banasura Sagar reservoir. Things to do are speed and pedal boats ride which will ornament your leisure time.
The site opens by 9 am and closes at 5 pm. Rs 10 is charged as an entry fee for each individual. Experience the best of this Wayanad Tourist Places from September to January.

6. Wayanad Wildlife Sanctuary
Wayanad Wildlife sanctuary is an immensely blessed area with a wide diversity of animal's, both wet and dry evergreen forests, a large variety of trees. The entire land stretches around 345 km which conserves the serenity of nature and those depending specially the tribal folks. This place has a lot to offer for family and friends who intends to spend a vacation enjoying what the nature has to offer. Also known as the Muthanga Sanctuary, it is one of the most celebrated Wayanad Tourist Places for Naturalists and Wildlife Lovers! As per records, it is one of the most visited Wayanad Tourist Places for photography, safari and wildlife watching.
It usually open at 7 am to 10 am and 3 pm to 5 pm. An entry fee of Rs 150 is charged for adults, Rs 65 for students and Rs 360 for foreign nationals. Extra fee would charged for using camera and vehicle.

7. Meenmutty Waterfalls
Another natural picnic spot in Wayanad located 40 km from Kalpetta. The way to waterfalls is decorated by greenery, coffee and ginger plantations. The mountain peaks are shrouded in mist. And the glorious rhythmic flow of water with a soothing tune. This scenic loveliness stands on top list of all Wayanad Tourist Places. It attracts the visitors to Meenmutty waterfalls. The entry fee for adults is Rs 30, for children Rs 15 and Rs 60 for foreign nationals. The site is open on all days of the week from 9 am to 5: 30 pm.

8. Thirunelli Temple
Thirunelli temple being one of the most ancient temples in India rests upon the shoulders of Brahmagiri hills is dedicated to Lord Maha Vishnu. The temple is constructed in most in the ancient temple architecture adding onto the beauty of place. It is one among the famous temples in Kerala due to its historic and cultural importance..
The rituals are performed on the banks of river, Papanashini that originated from Brahmagiri hills and is also believed to have medicinal powers. Close to the stream there's also a sacred pond, Panchatheertham.
More than a popular list in Wayanad Tourist Places, it is one of the most visited pilgrim centres in Wayanad. The temple is open from 5: 30 am to 12 pm and 5: 30 pm to 8 pm.
9. Soochipara Falls
The waterfalls at Soochipara near Meppadi is really a treasure of nature. The stretches of waterfalls ranging at places from 100 to 300 feet height is a treat to the eyes. The pool below, provides for water rafting, swimming and bathing. The tree top huts at Soochipara gives a unique view of the valleys of the Western Ghats and the glimmering shallow waters of the surrounding springs.
This most visited waterfall in the list of Wayanad Tourist Places is open from 9 am to 5 pm. An entry fee of Rs 80 is charged and extra fee is charged for using camera.

10. Jain Temple
Jain temple currently under the Archeological survey of India, is one of the best heritage place to visit in Wayanad. It is often claimed to be the most visited Wayanad Tourist Places in the heritage segment. This ancient temple is said to be built in the 13th century and is situated right in the heart of Sulthan Bathery. Also the temple appears to be old, intricate and seems to be built in the architectural style of Vijayanagar Dynasty. No particular fee is charged inorder to enter. It is open from 8 am to 12 pm and also from 2 pm to 6 pm.

Book your trip to Wayanad Tourist Places
Can't wait to visit all these Wayanad Tourist Places? Explore them now! Get in touch with team Tyndis and get the best of Wayanad. Adhere to the Covid Travel Protocols in Kerala. Send your travel queries to info@tyndisheritage.com or message us here.