21 Jan 2023
7 Best Resorts near Bangalore for Day Outing
Whether your objective is to motivate and inspire your team through a corporate offsite or
showcase your organization as a fine host when conducting a conference, partner with Tyndis
Heritage - one of the top corporate meeting and corporate event planners in South India. Our
recommendation includes 7 luxurious day-outing resorts that can be reached within an hour's
drive from Bangalore. An all-day outing trip planned with Tyndis includes a welcome drink,
lunch buffet, relaxing in the pool, team-building activities, in-house activities, and evening
tea/coffee with snacks.

Our Pick of 7 Best Day Outing Resorts near Bangalore are:

1) Mango Mist Resort

25 km drive from Bangalore city center takes you to the Mango Mist resort, located in
Harapanahalli. This resort is designed keeping in mind day campers as well as guests who stay
overnight. This resort provides a facility to hire a camping tent for half the cost of a room.
Depending upon the number of activities you wish to indulge in, there are various combo
tickets available for adults and kids. If you are joined by kids above 8 years they are going to
have a ball of a time, as a day-outing to this resort near Bengaluru ensures your entire day is
activity-filled.
With the music playing in the background, you can choose to dance on a mist-filled floor or
relax in the lazy pool that has an integrated fall. Two acres of land are set aside for pursuing
outdoor sports and another area for adventure activities like zip line, rock climbing, archery,
paintball, land and aqua zorbing, and many more. End your day by sipping a drink in a pool bar
with a jacuzzi massage and the soothing sound of a cave waterfall.
https://www.mangomist.com/
2) Our Native Village

Our next pick for a day outing near Bangalore is a farm in Hesaraghatta, that's at a distance of
about 90 Minutes from MG Road. This village-themed resort with fun activities near Bangalore
transports you to the bygone era of bullock carts, potter's wheel, grasslands, fresh air, chirping
birds, and games like gilli danda, lagori, spinning a top, catapult firing, and kite flying. At this
eco-friendly resort, you can get your pets along for an extra fee. The food they serve here is a
delicious healthy meal. For a comprehensive sense of well-being, recharge in a native village
setting and experience natural healing practices from Europe, Thai therapies, and Chinese
reflexology treatment done by trained physicians and therapists.
https://www.ournativevillage.com/

3) The Golden Palms Hotel & Spa

An ideal hotel for a refreshing day outing near Bangalore, this hotel in Dasanpura is less than an
hour's drive from MG Road. It lends a Mediterranean ambiance with an inviting courtyard and
bubbling fountains. The spa in the hotel provides a diverse range of traditional and advanced
rejuvenating therapies. Depending upon the taste of the guests, our team can organize fun
activities like a treasure hunt; tug of war, and much more in the vast outdoor space of this
property. There is a separate play area for children, cyclists, sports lovers, and for swimmers.
https://www.goldenpalmshotel.com/

4) Clarks Exotica – Convention Resorts & Spa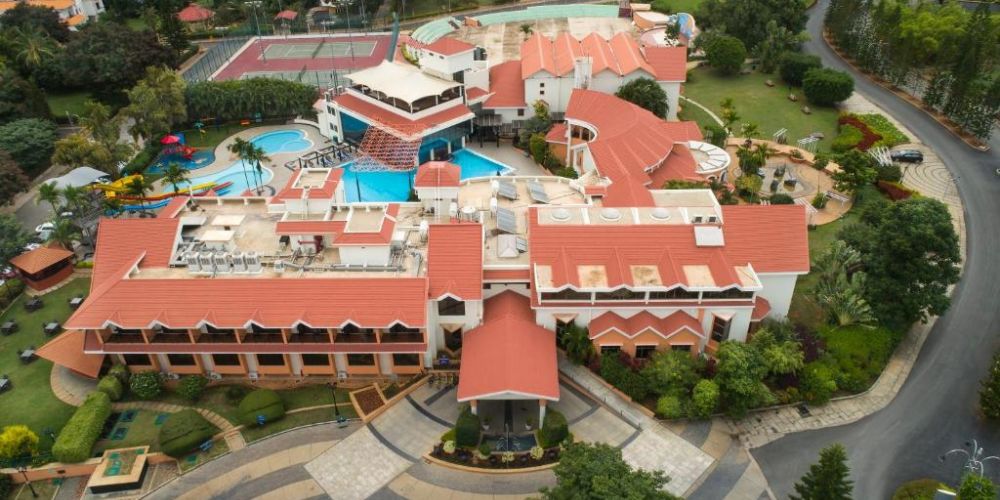 If you are looking for a hotel for a day outing near Bangalore, this is a perfect location to while
away your time. Clarks is a premier 5-star hotel just 15 minutes from the new Bangalore
International Airport. The recreational facilities include table tennis, squash, and badminton
courts, a swimming pool to take a refreshing dip, a billiards table, cycles to ride around, a well-
stocked library, a gymnasium, Jacuzzi, and 14 spa treatment rooms.
https://clarksexotica.com/

5) Wild Valley Adventure Retreat

This resort is a great day outing resort near Bangalore for a corporate outing. Included in the
entrance fee are plenty of activities like zip line, jumaring, rope course, rappelling, trekking, rain
dance, swimming pool, indoor games, and outdoor sports. By paying a little extra, adventure
seekers can indulge in paintball, archery, shooting, and kayaking too.
https://www.wildvalley.in/

6) Shilhaandara Resort

Ramnagara is one of the best day outing resorts near Bengaluru for adventure-seekers. The
architecture of the resort is steeped in heritage. Natural granite hills make up the landscape of
this thematic arts and sports village. To suit the rugged terrain, guests can try a whole lot of
adrenaline-inducing activities like quad biking, zip lining, tug of war, volleyball, cricket,
badminton, cycling, archery, basketball, or football. End the day by cooling yourself down
swimming in the pool or shaking your legs to the musical mist dance. If you are the quieter type
there are indoor games like foosball, dart, chess, caroms, or table tennis for your
entertainment.
https://shilhaandara.com/
7) Palm Meadows Resort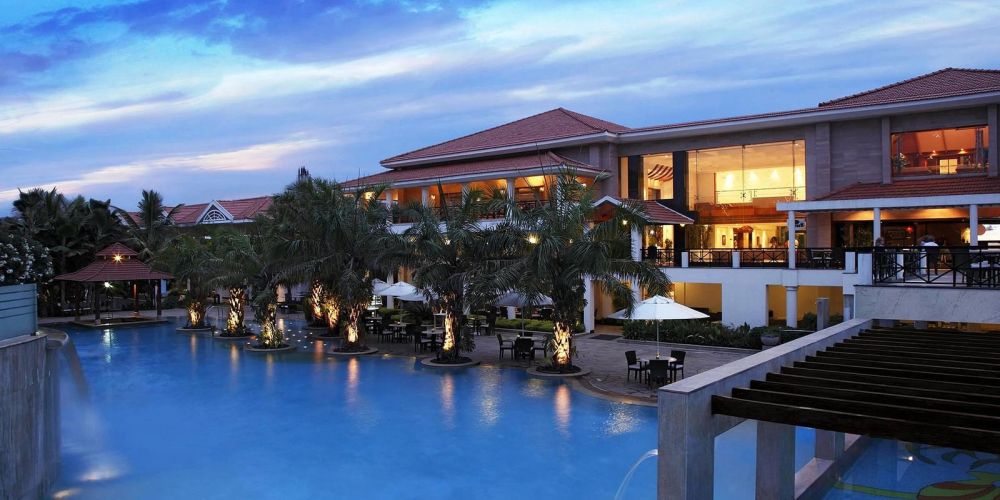 Located near the IT corridor in Whitefield, the resort is an hour from the International
Airport. The resort encourages day outing guests with packages that include using the resort
facilities like the pool, indoor badminton court, squash, basketball, snooker, lawn tennis, and
the kids' play area.
https://palmmeadowsresort.com/

Make Your Trip Memorable With Tyndis Heritage
For organizing a successful corporate offsite, meetings, themed events, and conferences,
anywhere in South India, you can confidently rely on Tyndis Heritage - a professional trip
planner. To experience our tour planning, all you have to do to do is choose one of the day
outing resorts near Bangalore that we have recommended and contact us today.